Urlaub in Chianti
The white roads of Chianti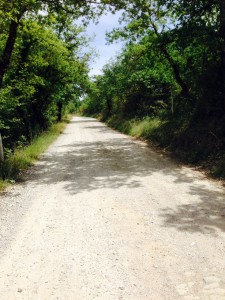 The white roads of Chianti are local roads that symbolise the rural character of this region. Indeed, they epitomize the authentic spirit of the ancient landscape which maintains the traditions and customs of the past.
White roads allow you to have the time to look around, to identify with a territory which reconciles nature, landscape, history, art and culture, as well as relaxation and well-being. In other words, the conscientious visitor finds everything they need here.
Choosing this type of holiday is to choose active tourism, paying attention to what the area offers, living in direct contact with nature and the people of the region; appreciating walks in the vineyards, hiking trails in nature, and a world-renowned wine and culinary culture.
Take the time to consider the rolling Tuscan hills, the medieval hill-top villages unchanged over time, the vineyards, olive groves, the cypress trees, white roads and the relaxing warmth of thermal waters.
A farmhouse holiday is perfect for family holidays with children and with pets, thanks to the relaxing and peaceful atmosphere, the availability of open spaces and areas were children can play freely.
The Chianti region is a fascinating blend of nature and culture in a rural context. Your holiday awaits you.
Veröffentlicht: 09 Jul 2014